Modern lifestyle tends to put us in hectic working conditions every day. As a result, boredom and depression are inevitable. And even the nightclubs, concerts, and party events can get cliche and redundant sometimes. At that moment, what you need is a personal retreat at home.
Here, we discuss how to turn your house's lawn into a serene and mind-refreshing place for you to relax.
Why Lawn?
Before we get further, you need to learn the philosophical reason for choosing the lawn as your retreat. First, that part is a separate unit from the main house. It will create a holistic sensation of being in a new place. Using a room inside of the house to be your retreat is not advisable because the enclosed nature of it can induce claustrophobia. Spending time indoors too much is not healthy for your mind.
Second, lawn improvement will also increase your house's intrinsic value. Many property agents and buyers will evaluate only the building's curb appeal before making a judgment. You can consider the improvement as a long-term investment.
Third, the lawn has more improvement possibilities than the indoor rooms. Although in theory, you can always modify your house as you like it, improving the garden is way cheaper and less the hassle.
Landscaping the Lawn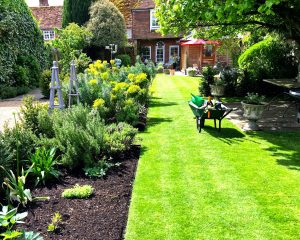 Landscaping creates a garden that will look like a stand-alone object of amusement. You can experience nature without having to go far from your home. However, lawn-landscaping that works is the one that is professionally done.
First, you must determine which elements should dominate your lawn. Is it the stone/rock, wood, sand, or soil? In case you do not know, sand is quite a favorite landscaping element. It can create that sandy look you have on the beach.
Second, you must select the right ornaments that match the dominating element. For instance, a cast-stone garden fountain will fit perfectly with either a stone or wooden-themed garden. You can visit https://www.garden-fountains.com to learn about all the design variants of a garden fountain.
Third, the plants should fill the garden. This step will be tricky because only an experienced eye can spot the flaw of a plant arrangement accurately. Therefore, you should consult a landscaper who is also an expert in perennial and evergreen plants. They are the primary fillers of your retreat garden.
Building a Retreat Shed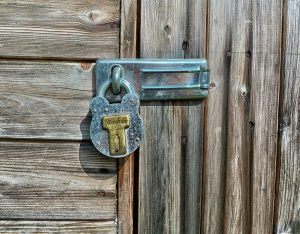 A shed in the garden has many purposes. You can use it as your private reading room, meditation room, and even a sauna room.
First, you have to select which wood will fit your garden's style. Ashwood gives a stronger tone to the garden because it usually comes in a darker color than the other types of timber. Oak will add a natural touch. And redwood is a basic variant that can fit any styles just enough.
Second, you must ensure the functional purpose of the shed and build accordingly. For example, if you want to transform the shed into a reading room, then you should consider using foldable and space-efficient furniture because of the narrow space. Also, you must think of the room insulation seriously since humidity and moisture can degrade your collections quickly.
Building a Gazebo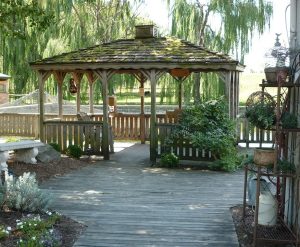 A gazebo will be your best option if you want to take a seat while enjoying the semi-outdoor air and view of your garden. There are two types of gazebo: soft and hard top.
The soft-top gazebo consists of a foldable fabric installed on a roof frame. It is practical to build and is best used against the sun ray only. The hard top, on the other hand, can withstand strong wind and other harsher weathers. But you will need to build it on top of a concrete floor.