A toothbrush is an essential tool for bodily hygiene and dental health. While choosing a toothbrush may seem a straightforward and simple process, it might not always be the case. Choosing the wrong brush can lead to improper care of both your teeth and gums. This could have serious consequences such as gum diseases, which increase the risk of suffering from ailments such as diabetes. With so many brushes available, it is important to know what to look for when making your purchase. Below are some of the factors to consider when choosing a toothbrush.
Main factors to consider
Bristles
Toothbrushes are available with different types of bristles, main ones being soft, medium and hard. Choosing the right set for your brush could save you a lot of pain. Although many people tend to believe that hard bristles remove more stains and clean effectively, soft bristles are recommended since they don't cause damage to the teeth and gums as compared to the hard ones. Regularly brushing your teeth vigorously with a hard bristled brush may cause wearing down of the enamel and bring about complications to the teeth and gums as well. Therefore, when buying your brush, it is important to consider the type of bristles that will serve you best.
Handle length and brush size
For a toothbrush to be effective enough, its head size, and handle length need to be just right. The brush head size should not be too small nor too big depending on your mouth size. This makes it easier for the brush to reach the far corners of the mouth and for you to have a fully clean mouth. Inability to properly clean the teeth at the back of the mouth could lead to bad breath despite regular brushing. Additionally, the optimum handle length for a comfortable grip while brushing should be around 17 cm. The handle should also be free and be able to sway within your hand to.
Type of toothbrush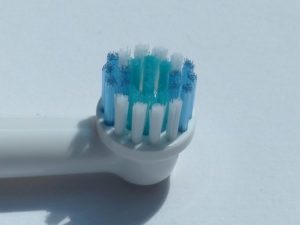 When it comes to buying a toothbrush, many people find it challenging to decide between a manual or electric brush. While these two types of toothbrushes have been pinned against each other for some time, the truth is that each can be as effective as the other. As long as the proper brushing technic is observed, the result should be the same. The electric toothbrush, however, is better suited for people with special needs such as braces and misaligned teeth. The bottom line is both can do a great job, so it is up to your personal preference or set of needs.
Cost of toothbrushes
The cost of a toothbrush could be the difference between quality and something inferior. A cheaper a toothbrush is less likely to service you longer and may have poor quality bristles. The pricey options in most cases tend to be ideal as they have better quality bristles and tend to serve you longer. Therefore, as tempting as it might be to buy a cheaper toothbrush, you just might be doing your teeth an injustice.